Sponsorships are an integral part of professional sports, and it is hard to imagine a sports team playing without one or more sponsors. You can see sponsor's logos everywhere these days — on rally and formula 1 cars, on tennis, basketball and football players' shirts, and even on stadiums and in those commercials that interrupt the game of your favourite team.

When it comes to sponsorships, both a sponsor and a team being sponsored have benefits from them. They provide a sports team with funds and goods, including uniforms and refreshments, among other things. They also provide a sponsor with a cost-effective and ultimately cheaper way to increase customer loyalty, raise brand awareness and increase sales. Sponsors range from clothing manufacturers, video game companies, drinks manufacturers and bookmarkers that offer promo codes like Meridianbet Promo Code to increase punters' earnings.

One sponsorship that stands out among all the rest is certainly the sponsorship between Carlsberg, a Danmark based brewer, and Liverpool football club.
Sponsorship That Lasts for Ages
It all started in 1992 when Carlsberg began sponsoring Liverpool FC and replaced Candy as their shirt sponsor. For almost a decade, Liverpool players had proudly worn Carlsberg logo on their uniforms through all ups and downs, until 2010 when Standard Chartered took over and became Liverpool's kit sponsor. This was not the end of the brewer and football team's friendship though, as they continued their partnership with Carlsberg remaining their lower category sponsor.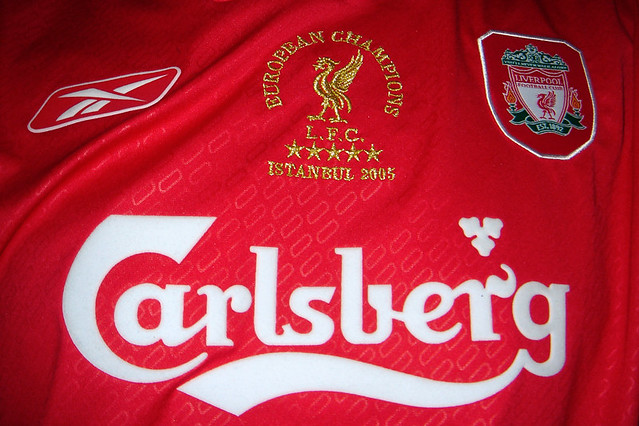 Last year, Carlsberg and Liverpool solidified their friendship by extending the partnership for five more years — until the 2023/2024 season. This sponsorship became the Premier League's longest-standing one, lasting for 31 years.

Carlsberg's chief commercial officer Jessica Spence characterized this relationship as iconic and added that they were extremely proud to be a part of that family for over a quarter of a century. She also added that Carlsberg was excited to see what the future holds for the club.

Billy Hogan, chief commercial officer and managing director of Liverpool FC, said that the extension was a real testament to how strong and historic the link between the club and the brewer had been, and added that they were looking forward to continuing to strengthen their relationship together.

Ever since this partnership began, Liverpool FC has delivered some outstanding results including winning four League Cups, one UEFA Cup, two FA Cups and one European Cup.
Carlsberg Is Going All Red for the Reds
The latest Carlsberg's campaign concerning Liverpool FC resulted in the creation of a unique beer named 'Carlsberg Red Barley'. This 4,8% ABV pilsner bears a striking red colour but, unlike other red ales that get their colour from red fruits they are flavoured with, this one gets its colour from the outer shell of a red barley variety. It is brewed as a single batch, so this one-of-a-kind beer comes in very limited quantities.

The bottle, label, cap and the brew are all red, commemorating former Liverpool manager Bill Shankly's decision from 1964 that the team would play dressed in all red. What makes this beer even more special is the fact that red barley has a very low climate resistance, which makes this variety very hard to produce in the quantities that the company requires. The company stated that this beer is made for the fans, and will be distributed internationally. A special brew, for the truly special fans.